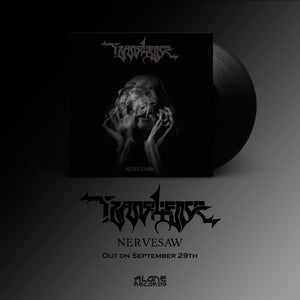 TRANSILIENCE announce comeback EP and premiere new video single on Decibel magazine
After our announcement earlier this month that Transilience had signed for Alone Records, we are now very happy to share with you the big news that everyone was waiting for: the cult American trio are going to release a brand new EP, their first physical release since their classic 'Mouthful of Buildings' full-length, all the way back in 1989!

'Nervesaw' will feature four tracks and will be out on September 29th on black and clear vinyl, and digital download formats. To give you a proper taster of what's to come in this meantime, the band is also making available today their first video single, closing track 'Seven Samurai'. It is a true off-kilter rollercoaster of a song, charging ahead through unexpected twists and turns, proving that Transilience's penchant for the weird and heavy has only been refined throughout the years. Go watch the exclusive premiere of the video on Decibel magazine right here!

Pre-orders of 'Nervesaw' are now live here, don't miss your copy of this historical release!
The origins of Transilience hark back to 1989, when a trio of teenage Watchtower fans managed to balance their way through high school with the recording of a remarkably unique album that's long become a cult classic within the proggier, more out-there sections of thrash. 'Mouthful Of Buildings' nearly out-Voivoded the kinds of weird thrash themselves, predating so many other bands since hailed as revolutionary and laying down one of the true pillars for dissonant, wildly experimental and dazzlingly technical heavy music.
Unfortunately, this was a bit too much, a bit too soon for these Reston, VA (a suburb of Washington D.C.) kids, whose musical and artistic tastes were drastically changing and evolving, as they do when you're that age. University, various artistic activities and basically life itself kept happening, and Transilience was abandoned for pastures new. Main man Spooky, the vocalist/guitarist, turned into Spookey Ruben the weirdo pop artist you are certainly familiar with, and throughout his solo career more than a few hints of his metal past are entirely apparent.

But now, Spooky is finally reactivating the first band of his career once again, in the company of bassist Jerry Barrett (an old school mate) on bass Omar Ruiz on drums.
The story has only just begun (again), and we could not be more excited.
'Nervesaw' Track List:
1. Cut The Mountain (3:45)
2. Pandemic Scale (3:23)
3. Octomom (1:43)
4. Seven Samurai (3:33)

Line-up
Spookey: vocals, guitars
Jerry Barrett: bass
Omar: drums
---